See below charts for brief astrology details
Who was he?
(from msn.com) He was a nocturnal creature who gambled all night and slept all day.
He took Valium at times for anxiousness, and had the doctor who prescribed it to him on retainer.
He wagered up to a million dollars a night, but wandered around glitzy Las Vegas casinos in sweatpants and flip-flops, and carried his own drink into the high rollers' area because he didn't want to tip the waitresses too much.
This was Stephen Paddock as he saw himself four years before he opened fire on a crowd of concertgoers, killing at least 58 people in the worst mass shooting in modern American history.
The details are contained in a 97-page court deposition obtained exclusively by CNN. Paddock was deposed October 29, 2013 as part of a civil lawsuit against the Cosmopolitan Hotel, where he slipped and fell on a walkway in 2011.
What otherwise would have been a mundane proceeding offers fresh details about Paddock's life and habits — for the first time — from the killer's own mouth. The document has been turned over to the FBI, according to sources.
Kept doctor 'on retainer'
Paddock's testimony offers little insight into what could have prompted last week's attack. He said that he had no mental health issues, no history of addiction and no criminal record.
He said he was prescribed Valium "for anxiousness" by Nevada internist Steven P. Winkler. It was unclear how often he took the drug, but he estimated that he had 10 or 15 pills remaining in a bottle of 60 that were prescribed a year and a half earlier.
Rage, aggressiveness and irritability are among the possible side effects of taking diazepam — better known as Valium, according to a manufacturer of the drug. It is not known when Paddock last took the drug.
The Las Vegas Review-Journal reported that Dr. Winkler prescribed him diazepam in June, based on information contained in Nevada's prescription drug monitoring database. CNN could not independently confirm that information.
Paddock was asked whether he had a good relationship with the doctor who prescribed him the pills.
"He's like on retainer, I call it, I guess," Paddock said of Winkler. "It means I pay a fee yearly … I have good access to him."
Winkler did not respond to an email or phone call seeking comment for this story. Reporters were turned away by a security guard after seeking access to the gated community where he lives.
In the deposition, Paddock said he had a concealed weapons license in Texas, but, other than that, there was no discussion of guns.
Always on the move
Paddock described himself as something of a rolling stone who split his time among California, Nevada, Texas and Florida, traveling at one point "maybe upwards of three weeks out of a month."
His de facto home was often one of the casinos, where he stayed in rooms that were provided for free "95% of the time." Hotels often provide free rooms and amenities to big gamblers to entice them back to their casinos.
At the Cosmopolitan, he said he had opened a bottle of sake in his room, possibly on the night of the incident, but did not drink much.
A lawyer asked him to explain why he would open the beverage but not drink it.
Paddock explained that everything in his room was "comped" or free, "so, yes, I would open all sorts of things."
"And if you aren't comped at casinos, you wouldn't understand," he added.
He said he wandered about in black Nike sweat pants and had a favorite pair of size 13 black flip-flops — the pair he was wearing on the night of his accident at the Cosmopolitan in October 2011. He was on his way to the high-limit room when he slipped on some liquid and fell. He testified that he hurt his hamstring, which he said resulted in a lingering injury. An arbitrator ultimately ruled in the Cosmopolitan's favor, according to two sources.
'I do not do sun'
Some of the testimony centered on his gambling.
He described himself as being, at one point, the "biggest video poker player in the world."
"How do I know that?" Paddock asked rhetorically. "Because I know some of the video poker players that play big. Nobody played as much and as long as I did."
At the height of his play in 2006, he testified, "I averaged 14 hours a day, 365 days a year."
"I'll gamble all night," he said. "I sleep during the day."
Asked if he ever visited the hotel pool, Paddock replied, "I do not do sun."
Paddock said he rarely drank alcohol when he gambled, because "at the stakes I play, you want to have all your wits about you, or as much wit as I have."
"Each time I push the button, it will range from $100 to $1,350," he said.
A lawyer asked how much he could end up betting on a given night.
"A million dollars," Paddock replied.
"That's a lot of money," the lawyer said.
"No, it's not," Paddock said.
The deposition also offered some clarity on basic biographical information about the enigmatic killer.
He was "raised mostly in California," attending high school in the Sun Valley section of Los Angeles and college at what would become Cal State Northridge. He worked for a time as an IRS agent, then began to invest in real estate.
Paddock did not detail the initial source of his wealth. He at times came off as arrogant and sarcastic during the deposition, the transcript suggests.
At one point he was asked whether he was sober on the night of the accident.
"I was my normal happy-go-lucky self," he said. "Perfectly sober."
Witness have said he berated his girlfriend in public on occasion too.
Astrology in Brief:
Natal Chart Notables:
Tsquare: fixed houses (2;8;11) and signs (Leo, Aquarius, Taurus)                                                             Planets involved: Moon/Pluto opposition; Jupiter square
Grand Cross Cardinal: Aries, Cancer, Libra, Capricorn (10; Ascendant; 4; Descendant)                       Planets involved: Sun, Sedna, Venus retrograde in Aries (1oth house); Uranus in Cancer (12th house); Neptune retrograde, Saturn retrograde (4th house); Chiron in Capricorn 6th house;                               Angles involved: Ascendant in Cancer; Descendant in  Capricorn                                                                Relevant rulers involved: Mars, Venus, Moon, Saturn
Natal Moon in Aquarius (8th house) opposition Pluto in Leo retrograde (2nd house): He was described as cool and rationale, detached, arrogant, confident (also likely to be of high intelligence) – yet from what is described, he could be emotionally short fused, condescending, and volatile. Jupiter in Taurus (11th house) forms a t-square with this Moon/Pluto opposition, adding to his extremist nature.
Natal Venus retrograde and Sedna are conjunct in Aries in the 10th house (a bottled up combo) and in opposition to Saturn retrograde/Neptune retrograde in Libra in his 4th house. This Venus/Sedna opposition Saturn/Neptune is also dynamically situated (square) his Ascendant/Descendant axis. Chiron in Capricorn in the 6th is also involved in this grand cardinal cross. This bottled up and under pressure combination finds its release through the triggering of the natal Moon/Pluto opposition. Note the below event chart (outer wheel) relative to the natal chart to see this demonstrated by the transiting moon and south node.
The transiting south node is situated at 23 Aquarius, only one degree balsamic to his natal moon and almost in exact 1/4 square aspect (action aspect) to Jupiter . Also, the transiting moon had just conjoined both (roughly six hours before the shooting. The transiting moon opposed his natal Pluto 10 hours earlier.
On September 27, 2017, transiting Jupiter opposed Uranus at 27 Libra/Aries, triggering his 10th Venus retrograde/Sedna conjunction. On September 28, Pluto stationed direct (ending the retrograde cycle begun on April 20, 2017). Note, the transit of Pluto in Capricorn triggered a tight (within 2 degrees) t-square momentum with natal Uranus in Cancer (12th house) and natal Sun in Aries in the 10th house.  This Pluto transit would have been triggering his chart for quite some time (a building influence since about 2014). (Interestingly, he spoke of feeling an inner void. That's a 6th house matter that also incorporates 12th house and the Virgo/Pisces axis.)
Transiting Uranus in Aries was also of influence for an extended period of time. It first made contact with Venus/Sedna in the spring of 2016, but its triggering influence can be seen back to the time when transiting Uranus opposed natal Sun (spring/summer of 2015) and further back to the time when transiting Uranus square the natal Uranus position (spring to autumn) of 2014.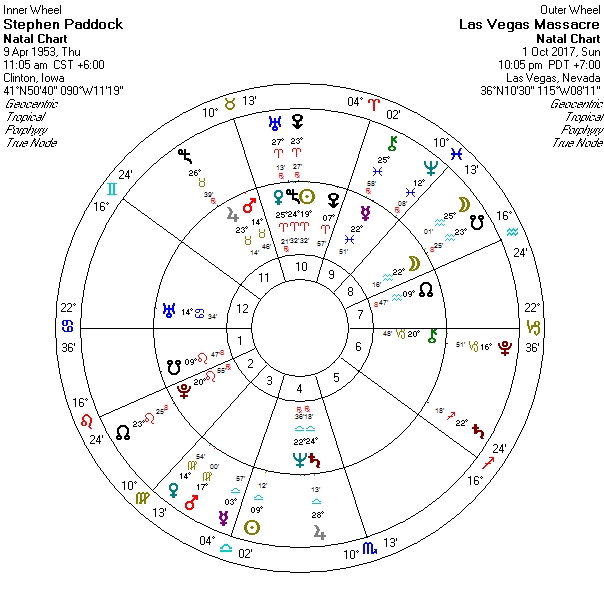 Event timeline: http://uk.businessinsider.com/timeline-shows-exactly-how-the-las-vegas-massacre-unfolded-2017-10/#monday-september-25-2017-stephen-paddock-checks-into-the-mandalay-bay-resort-and-casino-on-the-south-end-of-the-las-vegas-strip-1
The deadliest shooting in recent US history unfolded – as most do – in a storm of chaos and confusion.
Though the enormity of the situation emerged quickly Sunday night, details were still emerging of exactly what happened more than 48 hours later.
The police have confirmed that the gunman, 64-year-old Stephen Paddock, spent three days in Las Vegas before his attack and managed to amass a huge stockpile of guns.
By the time the general public knew a shooting was underway, Paddock was already dead. Here, moment by moment, is how the attack unfolded:
Thursday: Stephen Paddock checks into the Mandalay Bay Resort and Casino on the south end of the Las Vegas Strip.
Paddock first arrived at the Mandalay Bay on Thursday.
According to the Associated Press, he asked for a high-level suite overlooking the Route 91 Harvest festival – but couldn't immediately get one.
A hotel source said that he didn't move in to the 32nd-floor room he used for the shooting until Saturday, the night before the attack.
The AP said he "was given the room for free because he was a good customer."
The Las Vegas Metropolitan Police Department (LVMPD) say they found 23 guns and thousands of rounds of ammunition in his room.
He appears to have planned meticulously for the attack. As well as a large number of guns, Paddock set up at least three cameras to monitor the corridor outside, police said.
Sunday, 9:40 p.m.: Route 91 Harvest festival begins its closing act.
According to Fox News, the country star Jason Aldean went onstage at 9:40 p.m. on the night of the shooting. He played for half an hour before the shooting began.
He escaped unharmed and later paid tribute to his fans who were hurt and killed.
10:05 p.m.: Paddock opens fire.
Using multiple rifles, Paddock rained bullets on the crowd of 22,000 people below him.
Police said security footage from inside the hotel showed the first shots were fired at 10:05 p.m.
Officers started to exchange radio messages about the shooting three mintues later. One exchange from 10:08 p.m., cited by Reuters, features a voice saying: "We got shots fired! It sounded like an automatic firearm."
Las Vegas police say that Paddock fired "a dozen or so volleys" during the shooting. 58 people died.
10:12 p.m.: Police inside the hotel start to close in.
The first police to respond were officers who happened to be inside the Mandalay Bay for an event.
Within seven minutes of the shooting they had made their way to the 31st floor, according to an official police timeline, and knew the shooter was one floor above them.
10:13 p.m.: Police outside realize where the shots are coming from.
Police officers taking cover behind a patrol car that was in the line of fire from Stephen Paddock's 32nd-floor room in Mandalay Bay.Getty Images
Citing police radio transmissions, The New York Times said officers around Route 91 Harvest were still working out what was happening while colleagues inside the hotel were closing in.
Here two lines time-stamped 10:13 p.m.:
"It's coming from like the 50th or 60th floor, north of the Mandalay Bay! It's coming out a window.
"We're seeing local flashes in the middle of Mandalay Bay on the north side, kind of on the west tower but towards the center of the casino, like one of the middle floors."
10:15 p.m.: Paddock stops shooting out the window.
Police say that Paddock kept firing for "nine to 11 minutes." In a briefing on Wednesday evening, a police gave a final time for the end of the attack as 10:15 p.m.
The New York Times cites police radio at 10:20 p.m. as saying "it's been a while since we've heard any shots."
10:15 – 10:18 p.m.: Paddock shoots a hotel security guard.
The first person to approach Paddock's room was a hotel security guard, according to Las Vegas police. The exact timing is not clear.
Paddock shot him through the door of his suite as he approached, and hit the man in the leg. He apparently unloaded more than 200 rounds into the corridor.
The guard managed to get to safety, and told police exactly where Paddock was holed up.
10:16 p.m.: News hits social media.
10:17 p.m.: First police arrive on Paddock's floor.
The LVMPD timeline says that two of its officers were on the 32nd floor by 10:17 p.m., 12 minutes after the attack began.
They are soon joined by eight more officers, and spent some of the following 15 minutes systematically searching the floor's other rooms and evacuating guests.
10:24 p.m.: Police officers gather near Paddock's room.
Heavily armed police officers near Mandalay Bay.Getty Images
Again citing police radio, The New York Times said officers were right outside Paddock's hotel room at 10:24 p.m., 16 minutes after the shooting began.
One message said: "I'm on the 32nd floor. The room is going to be 135."
Another said: "It's room 135 on the 32nd floor. I need the SWAT."
It would be almost another hour, however, until officers would break into Paddock's room.
10:25 p.m.: The police issue active-shooter alert locally.
Broken windows, pictured the morning after the shooting, show the location of Paddock's suite on the exterior of Mandalay Bay.AP/Business Insider
Taxi drivers in the area received a message direct from the police at 10:25 p.m. telling them to avoid the Mandalay Bay area.
According to Reuters, it said: "Drivers avoid LV Blvd and Tropicana. Active shooting from Mandalay Bay. Possible 3 shooters."
Approximately 10:30 p.m.: Officers on the scene order passersby to take cover.
Reuters reported that minutes after the alert to cab drivers, the police started herding people inside Mandalay Bay to get them out of the line of sight of the gunman.
10:38 p.m.: The police publicly confirm active shooter.
Half an hour after the attack began, the Las Vegas Metropolitan Police Department wrote on Twitter that it was investigating an ongoing shooting:
10:40 p.m.: Police wait for back-up.
According to Newsweek, officers asked permission to enter Paddock's room sooner but were told to wait for SWAT teams.
Las Vegas Metropolitan Police Department Undersheriff Kevin C. McMahill defended that decision in a press conference, saying that waiting was an option because Paddock was "contained" and had stopped firing out of the window.
Explaining the decision, he said: "The floor had been evacuated of any guests, the suspect was contained and isolated within a room."
11:20 p.m.: SWAT teams break into Paddock's room and find him dead.
Footage published by the Daily Mail news site showing the inside of Stephen Paddock's Mandalay Bay suite after the shooting was over.Daily Mail
One hour, 12 minutes after the first shots were fired, a police SWAT unit detonated an explosive device to break down Paddock's door, according to the police tiemline.
By this time Paddock had already killed himself.
11:20 p.m.: Officers break down a second door and declare the scene safe.
SWAT officers noticed a second, closed, door when they burst into Paddock's suite, and could not immediately be sure what was behind it.
They used a second explosive charge to burst it open, at which point they could see the entire suite and were certain that Paddock was alone.
11:58 p.m.: The police confirm that the gunman is "down."
Two minutes before midnight, and almost two hours after the first shots were fired, the Las Vegas police tweeted confirmation that "one suspect is down":
Monday, 12:31 a.m.: Incident declared over.
It was not until 31 minutes past midnight – more than an hour since Paddock was found dead – that the police department sent a follow-up tweet saying it thought the dead man was the only attacker.
Two hours, 26 minutes after it began, the massacre was officially over.