August 25, 2018: (time of death 4:28pm, Phoenix, Arizona)
John McCain, RIP, American Hero..
Transits of note: progressed moon conjunct natal moon; transiting saturn conjunct natal north node & progressed venus; transiting mercury conjunct natal mars.(Note: Event chart for transition: August 25 2018, time unknown, noon used
July 19, 2017:
John McCain announces Brain Tumour
Senator John McCain's diagnosis of glioblastoma is the same brain cancer that took the life of Joe Biden's son, Beau, back in 2015, and former Sen. Ted Kennedy in 2009.
Glioblastoma multiforme is the most common and deadliest of the glial tumors because the cells reproduce so rapidly.
Glioblastoma has the highest number of cases of all malignant tumors, with an estimated 12,390 new cases predicted in 2017.
After coming in for a checkup, Senator McCain underwent emergency surgery on Friday July 14 (3 pm Mayo Clinic) to remove a blood clot caused by a brain tumor. With chemo treatment the median life expectancy is rep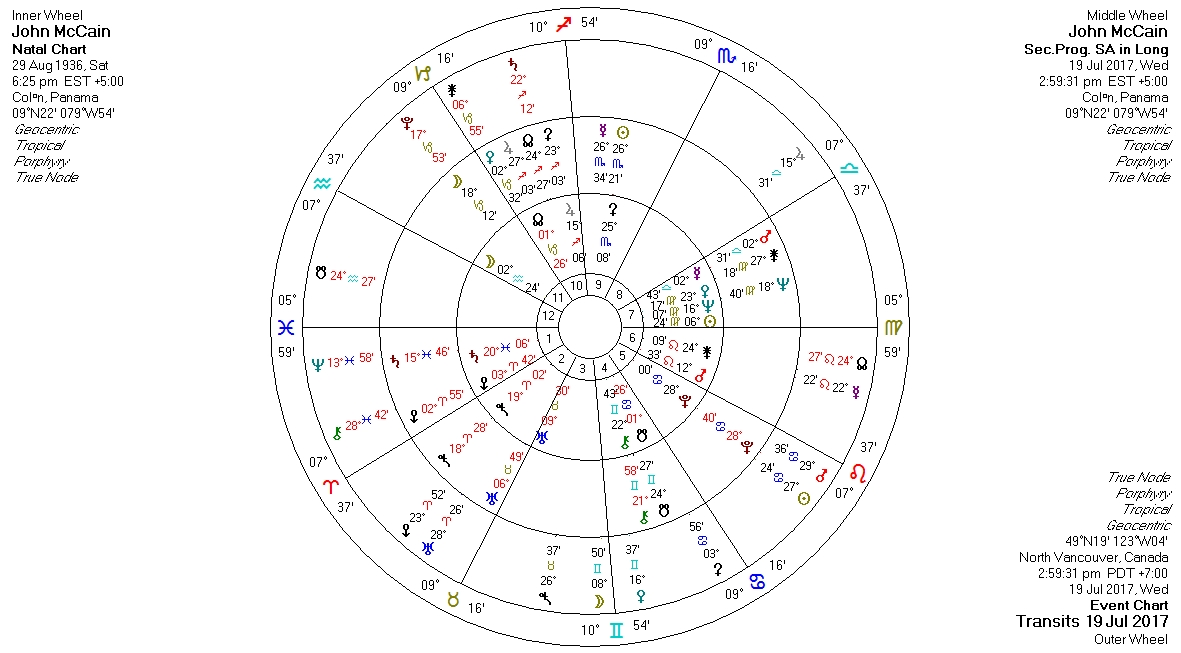 John McCain natal chart inner wheel; progressed char middle wheel; announcement outer wheel (not an accurate time)
Astrology details:
Transiting nodes square natal Ceres (9th house; repeat influence); also square progressed sun and Mercury.
Transiting Pluto is conjunct progressed moon in the 11th house.
The announcement happened while the transits of the sun and mars were conjunct his Pluto in Cancer in the 5th house (mortality; rapid treatment; aggressive cancer).
Transiting Ceres conjunct north node, opposition south node and Venus (mortality).
Transiting Uranus trine progressed Jupiter (swift call on behalf of doctors to operate immediately).
The August 21 total solar eclipse at 29 Leo squares natal Ceres, progressed sun & progressed Mercury. his eclipse has been activated since May 9 when the transiting nodes advanced to the Leo/Aquarius axis.
The February 15, 2018 partial solar eclipse at 27 Aquarius will square natal Ceres, progressed sun & progressed Mercury. I assume that chemo treatment might be a six month program which would coincide with this February eclipse. Uranus is retrograde from August 2 to January 2, 2018. John is receiving lots of support via social media – all are confidence generating, "he's a fighter, he can fight this". It is an apt message for the upcoming solar eclipse  in Leo  –  have confidence through the exceptional (eclipse), take on the fight -(Uranus retrograde in Aries forms an exact trine to the eclipse.) and aim to win it. A new life awaits…
July 28, 2017 – McCain casts the deciding vote – a thumbs down on the skinny bill to repeal Obamacare