**Early registration for the Canadian Astrology Conference ends August 15!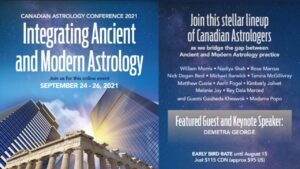 http://www.astrologyconference.ca/register.html
~~
Interested in Classes?
*Enrollment for SoulWise School of Evolutionary Astrology, intermediate classes ends August 15. Contact me for further info.
~~
August 2021:
August 8: New Moon in Leo (16:14 Leo)
August 22: Full Moon in Aquarius (29:37 Aquarius)
August 2: Juno stations direct: 4:42 pm
August 11: Mercury enters Virgo: 2:56 pm – to Aug 29
August 15: Venus enters Libra: 9:26 pm to Sept 10
August 19: Uranus stations retrograde: 6:40 pm
August 22: Sun into Virgo: 2:34 pm
August 29: Mercury into Libra – to Nov 5
**Please note all times listed are PDT, please check your local time
Dates to watch:
August 1 – 3, 10, 13, 14, 18- 26, 29
August 19, 2021: Uranus in Taurus stations retrograde at 6:40 pm PDT. Stay alert, watch for the unexpected and put added patience into play for the things that may not go according to plan or expectation. On the other hand, some things can hit an acceleration track. Watch for opportunity. Uranus on a redirect shifts the momentum, the mindset, the value or the evaluation process. The transits of Mars and Mercury (both in Virgo) in trine to Uranus pump up the workload and the needs of the many. (There are many ways a transit can play out. For example, Mars in Virgo trine Uranus has set an opportunity backdrop for the Taliban take-over. The Haiti earthquake (Uranus) has also ravaged innocent victims.) Let us hope that the sun's opposition to Jupiter in Aquarius and Sunday's full moon in Aquarius  (Aug 22, 5:01 am PDT) supports the success of humanitarian efforts. What about you personally?  These transits are revitalizing. Uranus supports out of the box thinking, making up your own mind, cutting yourself loose, and going your own way. The stage is set for progress, for something new to appear (be an insight, revelation, or fresh opportunity) and for correction, healing, improvement, or creative solutions to be found.
I am recuperating from recent surgery and so will not produce the August column. However, I am still available for private readings. Also, please check out the latest Guiding Stars radio show. Kristin and I discuss the transits for August.