Radical disruption and change is the nature of the triple conjunction of Uranus, Ceres, and Eris in retrograde. Let us affirm that wisdom and respect for all carries the day.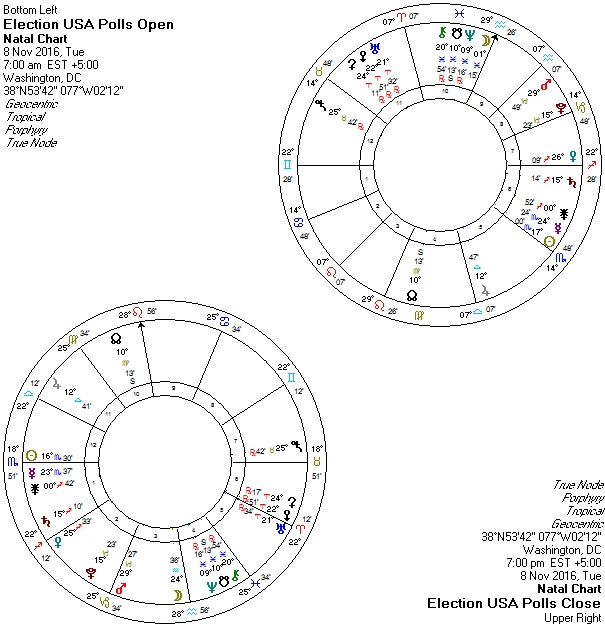 Above Chart: Lower Left: Voting Poll Transits for 7 am open; Upper Right: 7 pm Close
Significant Transits for 7 am chart: (lower left chart)

Moon at 7 am: 24:36 Aquarius 4th house; square Mercury
Sun rising on the Ascendant: 16:30 Scorpio; (note Leo Midheaven)
North Node in Virgo in 10th house;
Mercury, ruler of the north node in the 10th house (election event)
Neptune, ruler of the south node, balsamic to south node in 4th house (populace)
Mars: 29:27 Capricorn (dispositor of Uranus, Eris and Ceres retrograde in Aries)
Venus in Sagittarius in mutual reception with Jupiter in Libra; Venus trine Uranus
Midheaven: 28:56 Leo (Trump's Ascendant: 29:55 Leo)
Significant Changes for 7 pm chart: (upper right chart)

Moon at MC; (IC of 7 am chart now MC of the 7 pm chart)
Ascendant: 22:28 Gemini (Trump's sun: 22:55 Gemini);
Ruler of the Ascendant, Mercury, in Scorpio in the 6th house
Election day voting polls open at 7 am on November 8, 2016, Washington DC, with the transiting moon in Aquarius. It closes at 7pm with the transiting moon newly into Pisces.
The Aquarius moon is quite appropriate for a political event. As the last aspect before leaving Aquarius (a few hours before the polls open), the transiting moon will form a sextile to transiting Venus in Sagittarius. This Venus in Sagittarius/Moon in Aquarius aspect describes the high-volume voting; also, the pre-election day cash-in and the swings to the extremes that have already occurred. It describes the issues that have been overplayed or exaggerated throughout the campaign, especially the late breaking email controversy (Aquarius) that have surprised both voters and candidates.
While the late FBI email investigation bombshell has stirred it up, the fact that the election polls open on a void-of-course moon in Aquarius can suggest that while disruptive, this latest controversy will not prove effective in completely overthrowing/decimating the momentum that was already in place before the hand-grenade was tossed. (Traditional Horary astrology would consider a void-of-course moon as nullifying the question or event, as inconclusive, or as having no impact).
The moon sextile Venus aspect puts the attention on the female candidate and on controversial (Aquarius) issues that have made this election such a wild-ride.  Venus in Sagittarius is in mutual reception with Jupiter in Libra (in each other's signs). Major shots have been aimed at trust and truth. Venus/Jupiter raises the voice regarding the feminine issues – the need to be heard, respected, valued, validated, and honored – that Trump has inadvertently made so front and center throughout this election.
As the moon's last aspect before leaving Aquarius, this moon sextile Venus imprint is an indicator of a new social voice on the rise.
For both candidates, Venus in new phase to Saturn in Sagittarius suggests that suggests that previous experience and knowledge (Saturn in Sagittarius) is meant to be applied to a new role, a new format. There are hard lessons for each to learn, and perhaps major consequences also. Venus/Saturn in new phase suggests a reputation that is already built, but that will – and must – grow. (Saturn in Sagittarius is also an archetype of the hunt and the hunted; the repression or distortion of facts; lack of forthcoming and its consequences; the necessity of truth; truth as a priority, truth as a requirement.)
Venus in Sagittarius is very focal about ideas, opinions, and rights. Throughout the campaign, we have witnessed much targeting, outspokenness, and fault-finding from both camps. Saturn in Sagittarius holds tight to its justification, conviction, sense of rightness, and its sense of righteous indignation too. This planetary influence is not above presenting a one-sided and/or distorted version of the truth to stack its end game.
In its pure form, Saturn in Sagittarius uses the advance of time to test, hone, and prove beyond a shadow of a doubt that which has come under question.
Venus and Saturn in Sagittarius suggests that the election launches a significant new pathway for each. Each candidate has a major uphill climb to do too. A new level of trust will need to be earned.  It is a monumental task and neither candidate can afford to waste time or scrimp on effort. We are likely to see both hit the ground running after the election.
By stirring up the angry mob, Trump has served as the collective shadow's spokesperson.  The triple conjunction of Uranus, Eris, and Ceres, all three travelling in Aries and in retrograde motion, also keep the anger, the fight, the in-fighting (Aries retrograde) and the political strife alive. Relative to Mars, ruler of Aries, culminating at the very last degree of Capricorn, and dispositor of Uranus, Eris and Ceres, these planetary influences can suggest a pressurized valve that is ready to hit its trigger-release.
The moon's transit through "anything goes" Aquarius (November 6 to 8) and the after-election transit of Mars into Aquarius are surprise and shock-wave influences.
Planetary Nodes; Exalted Mars at 29 Capricorn:
Above Chart: (Inner Wheel, Election chart 7 am; Outer Wheel Planetary Nodes)
Transiting Mars: 29 Capricorn (inner wheel, 3rd house)- opposes Planetary North Node of Saturn: 29 Cancer retrograde (outer wheel, 9th house)
Transiting Saturn: 15 Sagittarius (inner wheel, 1st house)-opposes Planetary North Node of Uranus: 15 Gemini retrograde (outer wheel, 7th house)
Transiting Sun: 16 Scorpio (inner wheel, 12th house)-translates Planetary North Node of Mercury (outer wheel, 15 Scorpio) to Planetary South Node of Mercury (outerwheel, 17 Scorpio)(North node translation to south node – adds a new key/element/dynamic to bring the past to a new/next level)
Planetary Nodes; Exalted Mars at 29 Capricorn:
The transit of Mars, culminating in Capricorn, directly opposes the planetary north node of Saturn (ruler of Capricorn), while the transit of Saturn in Sagittarius directly opposes the planetary north node of Uranus. While Mars at the aneretic degree (last degree of a sign) is generally considered a weak influence by traditional astrology standards, the oppositions to the planetary nodes suggests otherwise. Note also that Mars is exalted in the sign of Capricorn, which means Mars can optimize Capricorn's attributes. Mars in Capricorn is an executive control, "use whatever force is necessary to get the job done" archetype.  At a broader symbolic level, Mars at the very last degree of Capricorn underscores this election as notable seed event for collective evolution, especially regarding the nature of judgement patterns and conditionings that have created the social distortions that are so common place in today's reality base, i.e. gender, sexual, national, social, and race disparity and denigration.
Taking it to the airwaves, and the streets, Mars can trigger a significant backlash or aftershock, especially once it unleashes in Aquarius. Mars enters Aquarius three hours after the voting polls close.
Elections Polls Close:
Above Chart details:
Transiting Moon in Pisces: (1:15 Pisces)-first aspect: square Juno: 0:52 Sagittarius 6th house
-last aspect before leaving Pisces (not depicted): square Venus: 26:09 Sagittarius, 7th house
Juno & Venus are disposited by Jupiter in Libra, 5th house; Jupiter in Libra is in mutual reception to Venus in Sagittarius
Emotional floodgates are sure to open as election day ends with the transiting moon newly into Pisces, at the Midheaven and on its way to forming aspects to Neptune, the south node, Chiron (conjunctions) and Saturn (square). The transiting moon on the Midheaven is a results significator.  It is also the trigger for Neptune, ruler of the south node in new phase to that south node. The transit of the Pisces moon on the Midheaven, Neptune, the south (and north) node at station, and Chiron in Pisces has the world watching. Nothing happens in isolation; what affects one, affects all. As a work in continuous, fluid motion, these Pisces influence stirs the tides of the collective consciousness and desire. As this process evolves, it simultaneous gives shape, form, and dimension to the potentials that have reached their ripe and ready timetable. As an archetype, Pisces unlocks hidden wealth for collective application, for collective learning, choice-making, and evolution.
This election is a national one, but what it launches reverberates throughout the political world and the collective consciousness. The event is actual, but it is also infused with great symbolic and karmic relevancy. In addition to tapping the resources of the collective, Pisces is an archetype of unresolved anger and rage. The advance of Mars into Aquarius just after polls close, along with Venus in Sagittarius in disseminating trine to Uranus (disruptive), Eris (anger; discordant) and Ceres (battle for sovereignty), travelling retrograde in Aries, can also spark large scale protests, rebellion, and perhaps even wide- spread violence.
The transiting moon in Pisces indicates an iconic moment for a chosen one, and for the seed of a majority-rule collective trend to set itself into motion.  Will the outcome prove to hold a saving grace, or will something of great importance be lost? The Pisces moon can stir great hope or great collective disillusionment.
The ocean knows no boundaries when its emotions are unleashed. Regarding a backlash, the transiting moon's early degree (0:41 Pisces) suggests that what is unleashed may not be effective enough to make reverse the tide's direction, but while it is stirred up, it certainly can cause further loss or destruction. Watch for the fallout to continue and to shift through the following full moon week. (November 14 delivers a super full moon in Taurus, November 17, Ceres and Eris conjoin, and November 19, Neptune stations direct.
~~
Viewing the November 8 election chart as a general transit, note that the transiting Aquarius moon has just created a first-quarter square aspect (decisive; activation) with Mercury at 23 Scorpio. This aspect is notable for two reasons: 1) Mercury is the ruler of the north node in Virgo; 2) Hillary Clinton's south node is 23 Scorpio. A planet transit to south node can ignite one of 3 conditions: relive, fruition, or relive and fruition. It suggests that Hillary taps innate resources and past life resources of particularly significance. The transit of Mercury on her south node also identifies this event as a key synthesis or trigger moment to bring something from the past forward into the present. This event chart Mercury contact to her natal south node (a karmic point) describes the late announcement by the FBI of the renewal of investigation into Hillary's emails on an insecure server, which is seen by many as ploy to overthrow Hillary (Mercury in Scorpio: sabotage, manipulation, hidden agenda, trust violations, emails, key players). The event Mercury contact to Hillary's south node marks her not only as a key target, but also a key agent for the collective. It also suggests this event as a major personal karmic catalyst.
The end of polling at 7pm Washington time puts the transiting Moon, now in Pisces at the Midheaven. The event chart suggests an uncertain-to-the-very-end, yet pivotal and iconic (Pisces) result. The moon's first aspect is a square to Juno in Sagittarius. Juno suggests a karmic contract brought forward from the past, that is key and relevant to future, that is on a continuance program. As an unleashing aspect, this Moon/Juno aspect can be an indicator of a significant emotional floodgate. When Juno is unhappy, she is capable of great vengeance. She will not be denied her rightful dues.
The moon's dispositor is Neptune in Pisces. Neptune holds especially significant sway for several reasons: 1) it is in its own sign; 2) it is the ruler of the transiting south node; 3) it is culminating on the south node: 4) it is the dispositor for Chiron in Neptune. Pisces is the archetype of mass consciousness. Regarding the personal and collective, the Pisces archetype correlates to: unlimited potential; the search for higher/ultimate purpose, value, meaning, and ideals; mass consciousness and trends; iconic moments and people; collective/social service, purpose, sacrifice, and salvation; hope; fulfillment of the dream; illusion, disillusionment, loss.
The one chosen has an opportunity to advance a key personal evolutionary track and to also serve as a translator and navigator for the newly evolving collective voice, needs, values, and trends. This last statement is true for both opponents, but each has their own unique path to serve. (Pisces, the fish, swim in two different directions.) As another seed event of many that have come before and many to follow, Hillary's election to top office it is yet one more opportunity for the collective to accept and support the ongoing resurgence of the sacred feminine, a program that advocates "stronger together", or in other words, sharing, caring, and inclusion. Donald's election to office is an opportunity to radically disrupt/overthrow the status quo. In so doing, he serves to accelerate collective evolution, through the shattering, perhaps through the cataclysmic experience. He has splintered the Republic party and he has used social divisiveness as a tool to advance collective reckoning.
By exposing the collective to their shadow, this critical mass event serves to brighten the light of the collective consciousness. While karmic implications are indicated by all the transits, the transiting moon in Pisces also speaks of potentials that have not yet taken definitive shape. It remains to be seen how the seed is watered, tended and grows.
Contacts to Hillary's Chart:
Birth Data: Oct 26, 1947, 8:02 am Chicago, Illinois
Evolutionary Soul Signature:
Pluto in Leo in the 9th house;
Mars in Leo balsamic within 1 degree; Saturn in Leo new phase;
South node in Scorpio culminating in the 1st house; Ruler Pluto in Leo, 9th house
North node in Taurus culminating in the 7th house; Ruler Venus in Scorpio 12th house
South node culminating on north node Ruler Venus
South node new phase to Jupiter in Sagittarius (0 degrees, 1st house)
South node culminating to Ascendant
South node culminating on Mercury at Station in Scorpio, 12th house
(Mercury and Venus rising on the Ascendant at birth
Uranus Out of Bounds north declination +23.31
Mercury stationed retrograde 20 hours, 37 minutes before birth (magnified influence)
Gibbous Lunar Phase
Skipped Step: Saturn in Leo 9th (resolution through north node in Taurus in 7th house)
Skipped Step: Mars/Pluto (resolution through north node in Taurus, 7th house)
Skipped Step: Pallas Athene retrograde in Aquarius in the 3rd house (resolution through south node in Scorpio, 1st house)
Those with soul path of Pluto in Leo in the 9th house have an innate sense of a special destiny at the core of their being. The ninth house archetype references a long journey that has sought to create, explore, and self-actualize through the vehicle of belief systems. Strong willed, ambitious, driven, and tenacious are words used to describe Hillary. These characteristics also describe the soul's fixation and all consuming drive toward fulfillment of higher purpose (12th/9th house. The intensified desires and ambitions created from deep within her soul consciousness will push Hillary to directly confront to provide opportunity to transcend whatever fears, insecurities, consequences of the past and present life challenges may be in the way, this in favour of the objectives put before her. Such drive and singularly focused intensity will mark her for life achievements of significance. It has been said that Hillary is innately shy and has felt uncomfortable with public speaking. A Scorpio, and even more so a 12th house Scorpio, covets privacy over the spotlight.  Still, Hillary is not destined to sit on the sidelines of life but to be a public figure, a full participant, a creator as well as a responder. Her personal/soul purpose is merged with collective purpose (Sun/Pluto 12th house/9th house mutual reception) leading her to social leadership roles (Leo 9th house).  Despite whatever opinion or policy changes she has made during her lengthy career, she has stayed fully committed to public service in politics and to her personal life values. Although she calls herself a Methodist, she does not openly display a practicing faith, but rather holds true to personal and private philosophies and principles. As Scorpio born will know, it's all or nothing, all in or all out, and all the way always.
The mission for this 12th house Scorpio sun is to fulfill an ultimate ambition, to be the most and the best she can be personally, to use her innate resources and talents to the maximum of her potential. The search for an ultimate career or path of service is a twelfth house archetype. Note the ruler of the Virgo Midheaven is Mercury at station retrograde and rising (on the Ascendant) in the 12th house. This intensifies the drive to accomplish the goals set by her soul. Among the top of her soul's desire and priority is perhaps one that is perceived as an ultimate path of service. Her soul is deeply motivated, all consumed, even fixated (Scorpio) on her chosen objective, that of manifesting the as-of-yet unrealized potential or dream. With Virgo on the Midheaven and its ruler Mercury at station retrograde in the 12th house, she is likely to feel that she has unfinished business to tend to. This sense of unfinished business also links to her subconscious programming/motivation regarding a sense of special mission, purpose, and destiny. With Virgo on the mid-heaven, a sense of added anxiety and necessity accompanies the drive toward the fulfillment of purpose. Virgo on the Midheaven also indicates feelings of inferiority or sense that she must work harder, fight harder for every gain. She seems to attract plenty of blame, public scrutiny, and animosity.
Mercury stationed retrograde less than one day prior to birth is suggestive of an intensified focus on continuing along an already established path or program, to revisit something that is of primary importance, a soul priority; to transcend the limits or limitations of what has been experienced in the past.
Any natal planet at station is a magnified influence. Mercury in Scorpio gives Hillary a sharp, intelligent, quick mind. Her penetrating mind can retain information and grasp deeper implications. She can readily understand how the system, concept or rationale works, and can intuitively strategize and/or see the weak links in an argument or body of information. Mercury in Scorpio station retrograde also suggests the soul is focused on revisited key matters from past lives and will set up specific events, circumstances and relationships in this life that will serve to promote evolution.
At the core of that ultimate ambition or ultimate sense of purpose, etc. is a belief system rooted in a sense of special destiny (Leo/fire archetype). Deep within her consciousness, Hillary is likely to feel that her special destiny marks her as a spokesperson and/or role model and leader, one who feels she knows (from deep within her heart) what is in the best interest of those she loves and those she serves. She will embark on creative self actualization with purpose (Pluto; Saturn), pride (Leo), and zeal (Mars), this regarding her own sense of accomplishment, and with purpose and zeal for the world at large, especially the select super power nation she has been born into (nationalistic pride represented by Leo 9th house, 12th house Sun in Scorpio mutual reception with Pluto in Leo).  At the core, she will have a sense that she is destined to lead or to champion an ideal, a social cause (12th house) and a social collective (national and world). Her belief systems relative to the 9th house would suggest she feels a strong sense of knowing what's best, highest, and true in terms of the needs of the collective (12th house). Through her political ambition she has made it her own personal ambition to further policies and laws that will elevate opportunities for the people she represents. Her 9th house Leo (Mars/Pluto & Saturn) is a statement of Hillary's nationalism, of her national pride, of her desire to lead the most influential/powerful nation of the world.
Sun in Scorpio relative to the 9th house soul path indicates a desire to resurrect or relive something of special significance to her personally. It is also a suggestion of a legacy connected to her public service/sense of special destiny/purpose that she wishes to keep alive. Universal health care, women's rights, better quality of life for the under privileged and free college education (a 9th house archetype) are initiatives she has been passionately pursued, even trail-blazed. Health care, women's rights, raising the quality of life for the average American are causes she has fought for with great tenacity.
The sun and Pluto are in mutual reception. When two planets are in each other's signs, they double/unite their resources pool, which loans more potency and power to each. While Pluto in Leo in the 9th house likes to broadcast itself, the sun in Scorpio in the 12th prefers to keep it under wraps. The aspect is a last quarter phase, which is indicative that Hillary is more than we see/judge.
Mars is in balsamic aspect to Pluto, at less than one degree from completion. This aspect is indicative of the soul at a stage of completion regarding a specific soul agenda/exploration. It positions the current life at a primary gateway, suggesting it is a primary lifetime for Hillary in terms of completion of a bigger picture cycle of soul evolution. At the same, the current life also represents a potent seeding time for a future undertaking. Additionally, Mars is in balsamic aspect to Saturn while Saturn is in new phase to Pluto. In Leo and in the 9th house, Mars/Saturn is exceptionally objective-focused and goal driven. This aspect intensifies resolve, staying power, and the desire to see it through to the end. It is also one that can achieve results, reward, status, or acknowledgement early on (Mars) and/or later (Saturn) in life. Mars/Saturn is indicative of achieving/holding positions of power or prominence.  She has been a lawyer (a ninth house archetype), a senator, a secretary of state, a first lady, and now the president of a powerhouse/super nation. As secretary of state she has had to deal with military matters (Mars/Saturn) and has travelled extensively. Mars/Saturn is also a signature for life situations and tests that require great stamina and endurance, on the physical, emotional, and ideological levels. She has been a tireless fighter for the causes she has believed in and she has managed to surpass gruelling schedules and great scrutiny regarding her choices, actions, integrity, and honesty while holding public office, and while her husband held office. We can only assume that it took herculean effort to maintain control and composure while suffering the public humiliation of her husband's infidelities while in office.
Saturn/Pluto loans Hillary the ability to zero in on the bottom-line of issues, to get down to brass tacks. It loans her serious intent and the ability to stay fully committed to her mission, to that that which she believes in. She will defend what she believes is right, true, and necessary. This is also a proprietary combination. She will believe in owning what she feels is legitimately hers. By extension, it also speaks of her national interests, to keep the best for self, to keep the best for country. Hillary excelled at academics and has a great capacity for retaining information she deems is important. She is not only sharp and shrewd intellectually (Mars, Pluto and Scorpio influences), she also has an intuitive sense (9th house) regarding how to extract the most lucrative, meaningful or useful out of what there is to work with. She has proved herself to be poised, rationale, clear, controlled, and on point in debates and speeches.
Hillary's Ascendant/Descendant culminates with her karmic axis by one degree. It is another chart signature that can make the individual feel a sense of fated-ness to their life experiences and interactions with others. The south node is in Scorpio in the 1st house and in balsamic relationship to the 12th house planets (Sun, Chiron, Venus and Mercury station retrograde). Planets that are in balsamic relationship are both completing an evolutionary track and staging a future course. As stated above the 12th house concentration increases the attention on the individual's completion of ultimate ideals, purpose, and potentials, while at the same time it marks her as a visionary with a special mission on behalf of the collective. Those with strong emphasis in the 12th house tend to be a step ahead of the rest. Relative to the Scorpio ruler in the 9th house, Hillary's chart suggests she has an iconic lifetime to live, an iconic path of service to fulfill. Beyond her election as the first female to be president of the USA, there are and will be many more ways that the iconic nature of this lifetime will unfold.
The south node is in last quarter phase to its ruler, Pluto in Leo in the 9th. The north node in Taurus in the 7th house is in gibbous opposition to the 12th house Mercury and Venus (by sign to Chiron and the Sun) and in full phase opposition to Jupiter in Sagittarius (0 degrees).  The north node is in gibbous opposition to its ruler, Venus in Scorpio in the 12th house. These planetary influences indicate a major key to her evolution is to revisit unfinished relationships in the social, collective, personal, and intimate categories with an emphasis on creating the maximum success, benefit, learning and growth that may be possible given the circumstances. The private made public, is indicative of the need to confront issues of trust, abandonment, betrayal, honesty. We have witnessed this dynamic playout in her personal life through her husband's infidelities, their dubious speculative financial investments, and through her political mis-steps (i.e., Bengazi, private email server issue, etc.). This 7th house north node, relative to Venus in Scorpio and Venus's dispositor, Pluto in the 9th house, is also descriptive of the backroom role she played in the hunt and execution of Bid Laden (justice/retribution for the collective 9th/12th influences.)
Mars, Pluto, and Saturn in Leo in the 9th house are square the north and south node, (the karmic axis). Evolutionary Astrology considers this configuration as a skipped step. It points to a key piece of evolution that has been previously visited, but that has not yet been well enough synthesized. It is of critical importance in terms of the soul's evolution. When the karmic axis is found in the sign polarity of Scorpio/Taurus, it will suggest intense confrontation with matters to do with life and death, with sexuality, use and abuse, power, money and manipulation, undermining, entrapment, survival, and such.
The resolution for the skipped step lies with the north node relative to Venus in Scorpio in the 12th, in first quarter square aspect to Mars/Pluto (action; decision maker; leader) and crescent square to Saturn (a builder/construction in progress influence). The north node ruler culminating with the south node is suggestive of prior experience/development/progress that is meant to be revisited and continued.
Jupiter at 0 Sagittarius suggests a new level of freedom and a new level of courage, conviction and sense of righteousness accompanies her instincts in this lifetime. While she is reliving much, she is also on a fresh crusade, meant to transcend the losses, fixations, and self undoing of the past (12th house), and to use the experience and learning as a springboard for growth.
Hillary's was born under the gibbous lunar phase. (Sun: 2 Scorpio; Moon: 23 Pisces). Often those with a gibbous lunar phase feel they must always climb out from underneath a rock, that no matter how well they perform or show up, that still they must work harder than others to meet with approval, recognition, reward, and receive their accolades. The world tends to find fault or pick on their weaknesses, insecurities, imperfections, mistakes and such. Hillary has been criticized for the way she looks, for being too cold, for not being relate-able or trustworthy. She said many times during her election campaign that she knew public opinion was not in her favour, that there were many that who were conspiring to undermine her bid for the white house. The late announcement by the FBI only ten days before the election regarding renewal of their investigation into the private email server issue is yet another demonstration of how the gibbous lunar cycle tends to pile on extra work, problems and pressure. While there are some that hold to the opinion that Hillary has poor instincts, perhaps it is her gibbous lunar phase sets up conditions that allow for her to make "mistakes", that force her to struggle, to work out a problem, this in order to increase awareness, to hone skills, to strengthen confidence in her own abilities, and to learn to trust herself better.
Election Day contacts to Hillary's chart:
Above Chart: Hillary Natal Chart (inner wheel) & Election (outer wheel)
Short list:
Transiting Sun (17 Scorpio) new phase to Hillary's Venus (16 Scorpio);
Transiting North Node in Virgo applying conjunction to Hillary's Midheaven:
Transiting Pisces Moon applying trine to natal sun in Scorpio in the 12th house; applying to natal IC
Transiting Juno in Sagittarius conjunct natal Jupiter (0 Sagittarius, first house)
Transiting Venus in Sagittarius full phase natal Uranus in Gemini; trine Ceres, Eris, Uranus retro in 5th;
Transiting Chiron retrograde conjunct natal moon, trine natal Mercury station r, ASC, south node; Venus
Relevant details:
Transiting Sun (17 Scorpio) new phase to Hillary's Venus (16 Scorpio);
Details:Transiting Sun surpasses first quarter square to Hillary's 9th house Mars/Pluto on Nov 6 (-keeps email crisis & intensified battle/pressure going for Hillary through this date at least).
Dispositor of Sun in Scorpio: Pluto in Capricorn in 2nd house (ownership; assets/resources; limitations)
Dispositor of Pluto in Capricorn: Saturn in Sagittarius in 1st house & trines 9th house natal planets Mars/Pluto & Saturn
Dispositor of Saturn in Sagittarius: Jupiter in Libra in 11th conjunct natal Neptune (massive opportunty; massive loss)
Dispositor of Jupiter in Libra: Venus in Sagittarius in 1st house (transiting Jupiter & Venus in mutual reception)
~
Transiting North Node in Virgo applying conjunction to Hillary's Midheaven:
Details: Ruler of the North Node in Virgo, Mercury in Scorpio, conjunct Hillary's south node (1st house) Brings something from the past into the present as a key tool. This election is a second bid for the job. Ruler of the transiting north node, Mercury, conjunct natal south node.(Collective: Neptune ruler of south node on south node; transiting Moon in Pisces)
Transiting Moon In Pisces applying trine to natal sun in Scorpio in the 12th house; applying to natal IC. Dispositor of Moon in Pisces is Neptune retrograde in Hillary's fourth house (indicative of her past lives & collective service intertwined; fruition, relive or fruition & relive.)
Transiting Juno in Sagittarius conjunct natal Jupiter, 1st house, (successful contract). Strengthened by dispositor of Juno in Sag: Jupiter, 11th house, conjunct Neptune; mutual reception to Venus
Transiting Venus in Sagittarius full phase natal Uranus in Gemini; trine Ceres, Eris, Uranus retro in 5th
Transiting Venus first quarter trine to natal Saturn in Leo in the 9th (success; reward)
Transiting Chiron retrograde conjunct natal moon, trine natal Mercury station r, ASC, south node; Venus
Hillary's Secondary Progressed Chart with Election Bi-wheel
Above Chart Details: (Only the most significant are listed below:)
Transiting Sun in Scorpio conjunct Secondary Progressed MC
Transiting Saturn conjunct SP Jupiter in the 11th house (fulfillment house; results of 10th house)
Transiting Jupiter conjunct SP Neptune in the 9th house; trine SP Venus in Aquarius in 1st house
Added detail, not depicted in above chart: Hillary's progressed Chiron is 21:09 Scorpio; her natal Mercury: 21:23 Scorpio (Natal Mercury is at station retrograde – a condition that magnifies/intensifies Mercury; Secondary Progressed Chiron/natal Mercury: key event/circumstance pertaining to soul desire & requirements)
Transiting Pluto in the 2nd house relative to Saturn in the 1st house. Hillary is given an opportunity to complete a long-in-the-works soul-mission (Mars/Pluto balsamic in the 9th).
Election Transit contacts to Trump's chart:
Above Chart Notable Contacts:
No transits occupy natal houses 9 through 12
Progressed Moon in Pisces, Neptune, south node and Chiron in natal 7th house (public exposure)
Transiting north node in natal 1st house, Ruler of transiting north node: Mercury in natal 4th trine natal Venus/Saturn 11th house (favourable for moving in a new direction)
Venus in Sagittarius trine transiting Uranus in 8th (favour from media; public popularity)
Transiting Sun in 3rd house (media) trines natal Venus/Saturn (public popularity; opportunist; successful communication; success with marketing/branding and media)
Transiting Jupiter, conjunct natal Juno/Chiron, trine natal Uranus in natal 10th house; (award; opportunity)
Note: Donald's seventh house becomes the 10th house of the election day poll closing chart, thus elevating his 7th house. The Pisces transits in the 7th house (Neptune conjunct the south node; Chiron in Pisces)  is indicative of the mass sentiment of disillusionment regarding the system that has catapulted Donald into public favour.
Trump's Secondary Progressed Chart with Election Bi-wheel:
Above Chart Notables:
No transits to houses 9, 10, or 4
Transiting Sun in Scorpio, 1st house; first quarter trine to SP Moon in Cancer, 9th house; trine to Chiron transit 5th house;
Transiting Mercury (ruler of transiting north node, 11th) first quarter trine to Moon in Cancer, 9th house
Transiting Venus trine to Descendant, transiting Ceres, Eris, Uranus in 6th house
Jupiter (in mutual reception with transiting Venus) conjunct natal Mars and Venus
Transiting Mars conjunct natal Ceres and natal IC in Aquarius
Progressed Saturn on the Midheaven is fortuitous. Transiting Juno, the contract asteroid, forms trine aspect from the secondary progressed 2nd house. Transiting Saturn, also in the 2nd house, trines secondary progressed Mercury in Leo in the 10th house. The transiting sun builds a first quarter trine aspect with Trump's secondary progressed Moon. Despite his many blunders, Trump's popularity throughout this election has surprised many. His progressed moon in Cancer in the 9th house is also a statement of public popularity and support. The 9th house can be one of "preaching to those already converted".  While he has said that if he loses this election, he will consider it as the greatest waste of his time, but in actuality, the campaign, despite the mudslinging, has done much to revive his public profile and bodes well for future opportunity.
Author note: the above article is not meant to be a thorough natal chart interpretation for either candidate, only to pick out what has stood out as notable. Secondary Progressed charts with transits are supplied for visual ease, but of course would be referenced to the natal charts. Written & published November 3, 2016; all rights reserved. You are welcome to pass this article on, please give credit, thx. Rose Marcus